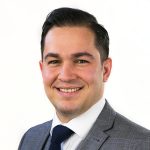 Eduardo Leonardo

Business Development Manager | Liaison Workforce
"I am proud to be part of the Liaison Group since July 2013. I've been lucky to embark on an inspiring journey that cares about and supports the health economy – in particular our NHS. I joined the team as part of the client services team responsible for the delivery of our Workforce services across our client base in the South West of England and Wales. Since then there have been plenty of career progression opportunities and my role has evolved into four different roles all within our Workforce division. Liaison Group is great company to be part of, with a caring & supportive environment where every person is keen to help support colleagues.
Over the last three years I have been in the role of Business Development Manager. In this role I combine my recruitment and healthcare workforce knowledge and experience to help guide NHS organisations through transformational changes in their workforce portfolios to maximise every savings opportunity available. It is a very rewarding role as often I am able to see our clients benefitting from a multitude of measurable improvements across all areas of workforce management."
Emma Smith
CRM Executive | Liaison Group
"I joined the Forensic team initially, but new opportunities opened up for me and I've since moved roles four times in 7 years.  Most recently, I've joined our IT team administrating and customising the customer management system. It's been great to develop my skills and career within Liaison Group."
Philippa Debono
Head of Bids and Tenders | Liaison Group
"Since Feb 2014, I've been part of an amazing journey of growth and continued expansion into specialist niche areas which benefit the NHS and social care sector. Growing our framework agreements from 0 to 13 with 27 lots in total has led to some exciting contracts.
Creating compelling tenders to win contracts is always exciting for me. Understanding prospective client objectives and proposing a strategy that provides value and continued innovation is very rewarding for us."
Jordan Taylor
Product Manager | Liaison Financial and Care
"I joined Liaison Group in 2014 as a Research Analyst. From the outset I enjoyed the impact that this research had on business decisions. As the company expanded, I have received significant training and support to progress me through two promotions into my current role as Product Manager. I enjoy working on interesting new products, learning from a variety of people, and the potential impact Liaison Group's next idea will have on the global health economy."
Alice Fisher
CRM Administrator | Liaison Group
"I love the variation of work the role of CRM Administrator brings, the variety of work allows interaction with different colleagues and departments. Having started my journey with Liaison Group as a Temporary Corporate Support Administrator it soon became clear that I wanted to stay with the company long term. Throughout the business everyone is so friendly and supportive. You always feel part of a wider team."
Dominic Hutchinson-Backer
Information Governance Manager | Liaison Group
"I have been in the role of Information Governance Manager with Liaison Group since October 2017. In my time with the organisation, we have implemented our GDPR Compliance strategy and received ISO 27001 re-certification. Both ensure that our clients and business partners can rest assured that we will process their information in an ethical and compliant manner."